CAROLE'S MISSION: 
"To create an atmosphere of peace that will inspire others to explore their own inner possibilities for faith, hope and joy."
~ Touching Hearts through Art ~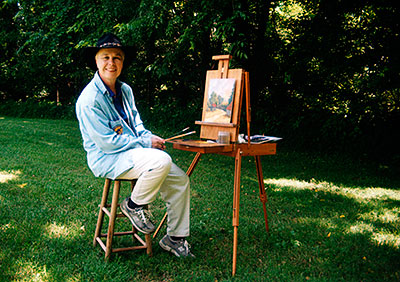 Some of Carole's earliest memories centered around art. It was always a pleasure for her to attempt to recreate what she saw around her, whether it might be trees, sky, animals or people.
At an early age she also noticed that other people enjoyed her creations. One painting of George Washington at Valley Forge was the beginning of her love for historical subjects. Her teachers and parents were always supportive of her efforts, many times giving extra credit for illustrating home work assignments.
Plans for attending art school were delayed by early marriage and a growing family. During that time Carole worked as a graphic artist. Then with children grown, she had the opportunity to develop her skills by attending workshops and studying under some of the finest teachers. She had studied with Marion Cook, Frank Covino, E. John Robinson and Karen Vance. Nineteenth century artists Thomas Moran and Frederick Church had a great influence on her as well as modern masters such as Clyde Aspevig and Howard Terpning.
She was thankful for the gift she had been given and continually worked to improve as an artist. Along the way, she hoped to uplift spirits and inspire others with the images given to her.
Thank you for your interest. Y'all come back soon!
Carole Weaver
(1942-2022)